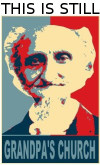 First President of the LCMS and it's Grandfather
CFW Walther
Our Pastor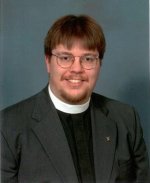 Our pastor is Rev. Geoffrey A. Wagner.
Pastor Wagner was born in Augsburg, Germany. His father was serving in the U.S. Army at the time; because of this, Pastor Wagner never lived in one place for more than three years while growing up until high school. He has lived in Germany three times as well as the states of Arizona, Georgia, and Texas.
After high school, Pastor Wagner attended the University of Florida, where he earned a bachelor's degree in Classical Studies, specializing in Greek Civilization and Archaeology. He has often said that should he have pursued further education, he would like to have obtained a Ph.D. in archaeology or Egyptology. As a result of his educational background, Pastor Wagner has a passing interest in Biblical Archaeology.
Pastor Wagner earned his Master of Divinity degree from Concordia Seminary in St. Louis. At the seminary, he was a very active member in the Concordia Seminary Chorus. Through the Seminary Chorus, Pastor Wagner travelled all over the country, including Alaska, the northwestern U.S., the southwestern U.S., and the northeastern U.S.
After graduating from the seminary, Pastor Wagner married Genevieve. He was ordained three weeks later in Tampa, Florida, then installed just over a month after that at his first parish in South Dakota.
The Wagners have five children, ages 18, 17, 12, 10, and one child who has preceded them in death, having been born still. They are thrilled to be living in Colorado, where he is serving a confessional, Lutheran parish.

: off-site link

: pdf (Adobe Reader) document

: zip file
: Bible.logos.com link (Bible reference)