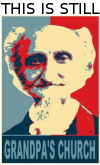 First President of the LCMS and it's Grandfather
CFW Walther
Resources
These are various resources which may be of interest to visitors to our page. Included are simple handouts explaining a few things, a few resources for study, marriage policies and premarital resources, among some others. At least, that's the plan for this page.
Congregational Polity
Policies and Guidelines that the congregation uses to govern its secular affairs. The Scriptures and Confessions are her sole rule and norm otherwise.
Marriage Resources
Documents pertinent to getting married at Christ Our Savior or by our pastor.
General Resources
These are resources of general or miscellaneous interest.

: off-site link

: pdf (Adobe Reader) document

: zip file
: Bible.logos.com link (Bible reference)